SPRAY G
Spray G absorbes moisture faster than mineral wool and cellular plastics
Characteristics
- Surface structure and colour can be adapted
- Non-combustible material
- Can be sprayed in corners and on arched surface
- Gives no joints
- The surface can easily be repaired if damaged
- Low density and thin thickness

Spray G is white in its natural colour and is rated Non-Combustible material, Chapter II-2 of 1974 SOLAS
Convention as amended; IMO Resolution A.472(XII) by Lloyd's Register of Shipping.
Spray G is a lightweight material, density 45~50㎏/㎥. and is used for sound absorption, condensation
control and thermal insulation in areas where a lightweight material is requested.
Thermal Insulation
The thermal conductivity of Spray G has been tested, 1 = 0.033 W/m* ℃.
This is a good value, and when considering that no thermal bridges appear after application because of
adhesion to the surface, it is then superior to other material.


Railway carriages in Sweden and Finland are completely insulated with Spray G, as are naval vessels in Sweden.
In Sweden we have insulated over 1200 carriages during a period of ten years. Many carriages have been
examined after fire damage and reconstruction, and there have been no complaints on the performance of
Spray Insulation.
Not only will Spray provide thermal insulation but also sound absorption and condensation control.
Sound absorption
Spray G provides a high level of sound absorption and can therefore be used in solving various problems
of acoustics in ships, and buildings.
The material will allow you to spray on any substrate of any shape and still achieve a nice interior design.
The surface can be painted and given different surface structures to customer's choice.
Condensation control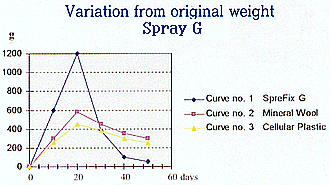 One of the best characteristics of Spray is its capacity to contain large quantities of water vapor,
and release the vapour without any damage to the insulation or to the adhesion to the substrate.
This means that Spray insulation is able to minimize damage to substrate and constructions by 'controlling'
the humidity, which is one of the basic ingredients causing rot and corrosion.
This is a big problems with other materials currently in use, such as insulation panels, where water vapor
gathers and results in damage to the insulation and the substrate.
The diagram above shows how the materials absorb and emits water vapor. The curve of Spray tells us that
there will never be any accumulation of vapor in the material and therefore not causing rot or corrosion.